Time Square Construction
& Development
---
We build more than structures – we build relationships.
The leading experts in construction & development in New York City. Incorporated in 2006, Time Square Construction & Development specializes in residential and commercial developments, general contracting, construction management and third party contract work for public and private entities.
---
Learn More
---
---
Services
---
Our construction division provides a team of professionals that possess the experience, ingenuity and dedication to complete the job to the highest of standards. Executive-level management, project managers and support staff have the capability to react to the dynamic climate which defines construction projects. They provide evaluations on a macro and micro level, ensuring clients receive personalized and invaluable attention. The skill set of this unit administers the following services
PRECONSTRUCTION

---
We offer Master Planning, Estimating & Scheduling, Logistics & Design, Constructability Review, Value Engineering Analysis and Bid Preparation.
---
General Contracting
---
Time Square Construction brings success to each of our client's projects through strong attention to project details and strong partnerships with subcontractors and other partners. We tightly manage all aspects of the job from project start through close out.
---
---
---
Budgeting and Cost Estimating
---
We provide credible, reliable, and accurate cost estimates and budget preparation and tracking through the project life cycle.
---
Construction Management
---
Our construction managers are trained and dedicated professionals who oversee all aspects of the project from management planning, cost management, quality management, contract administration and safety management.
---
Design and Value Engineering
---
We offer a full range of services and at any phase of the process, we can evaluate the project for cost savings and efficiencies and make the appropriate adjustments.
---
Self-perform
---
Our ability to self-perform key construction operations enables us to have greater control over a project's cost and schedule.
Safety is part of our culture
At Time Square, safety is part of our culture. We are committed to ensuring the health, safety & welfare of our employees. Safety is a priority for all of our employees, from the field to senior management. We have high internal standards and expect our clients, project partners and subcontractors to share this important value.
We have a highly qualified Safety team consisting of a Safety Director who monitors all sites and a dedicated Site Safety Manager on each job, who work together with management to ensure the highest standard of safety is met. We continually monitor all of our sites, from the start of each project through the closeout, we monitor, maintain and correct any potential safety issues.
Each of our projects has a site safety manager that inspects and monitors the daily activities
We pre-qualify contractors with safety as a key factor in the process
We ensure that safety standards and techniques are communicated between the office and field
Our teams meet regularly with project teams to ensure that all members are responsible and accountable
All of our Safety Programs conform with OSHA standards
---
we believe safety is everyone's job
Time Squares Safety Department manages and maintains the company's safety and health policies and ensures that safe work practices and procedures are consistent across our job sites. Our Safety Department works with project managers and field supervisors to plan the safest approach to each project. We hold daily discussions of safe work practices on our job sites, in our offices and with our partners. We believe a successful project is is injury free.
325 LEXINGTON AVENUE, NEW YORK, NY
---
This thirty-two story building features one hundred twenty-five luxury apartments, located in Midtown Manhattan. The multi-use structure has a fitness center, club room, and a residential rooftop terrace, in addition to retail space on the ground
floor. The top of the building contains two penthouses, providing luxury amenities and private terrace
The building envelope is a curtain wall system with aluminum cladding at the bulkhead. This structure has forty-six feet of street frontage, and is seventy-six feet deep.
Architect: HTO Architect, PLLC.
Interior Architect: Povero & Company
Façade: Gilsanz Murray Steficek
---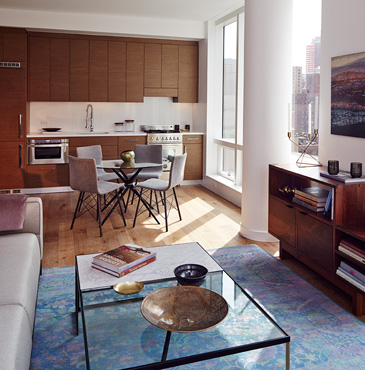 ---
View More Projects
785 Eighth Avenue, New York, NY
---
The flagship project of Time Square Construction is a multi-use building located near Times Square in Manhattan's Theater District. The forty-three story superstructure is limited to a two thousand five hundred square foot lot, with only twenty-five feet of frontage.The distinctive apex provides a notable addition to the skyline, and was featured in an exhibit at the Skyscraper Museum in Lower Manhattan. This structure was awarded the Construction Industry Board 2009 Roger H. Corbetta Award of Merit.
Architect: Ismael Leyva Architects PC
Façade: Gilsanz Murray Steficek
Get in Touch
---
If you have general comments and questions about Time Square Construction or our services, we'd like to hear from you. Please use the email form below to contact us, or call us.
Location
---
355 Lexington Avenue, 17th Floor
New York, NY 10017
We are located south of Grand Central Station, on Lexington Avenue between 40th and 41st Streets.
---
Contact
---
Phone (212) 687-1400
Fax (212) 687-1415